Car Dealerships Reviews in Stellarton, Nova Scotia
Why Anchor Toyota Constantly Earns Outstanding Car Dealership Reviews
At Anchor Toyota, we are the preferred Toyota dealership in Stellarton, Nova Scotia. We proudly serve the surrounding areas of Antigonish, Trenton, New Glasgow, Westville, Plymouth, and Pictou County.
Find Out What Our Customers Are Saying About Us
When you read car dealerships reviews in Stellarton, Nova Scotia, you'll find that Anchor Toyota always receives top marks for attentiveness, industry knowledge, flexibility, and top-rated vehicles. Our new inventory represents the latest and most in-demand Toyota models. Whether you want a fast, efficient car for commuting to work or a larger vehicle that's perfect for transporting your family and taking long adventure trips with all of your recreational or sporting equipment, we can help.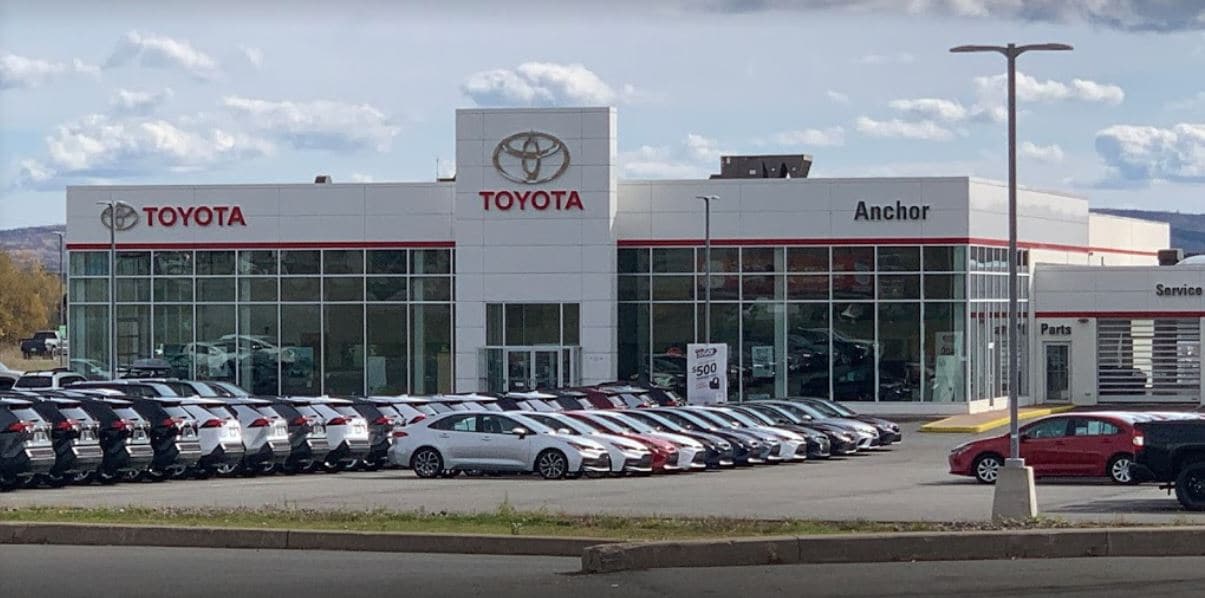 Drivers who visit Anchor Toyota loved that we listen to their needs and concerns. If your seeking safety, finding a vehicle with adequate cargo space or finding a car that offers sufficient comfort, we'll show you options that boast all the features you want. Check out the many impressive Anchor Toyota reviews to see firsthand just how committed we are to providing excellent customer care and solutions entirely in line with our clients' needs. Taking the time to learn more about local dealerships before shopping for your next new or used car is guaranteed to give you peace of mind. Our commitment to offering superior service has inspired loyalty and trust, helping us build our impressive and enduring reputation as a first-rate dealer in the region.
Financing Solutions That Work for You
Our sales staff are friendly, personable, and eager to help motorists find what they want and need from a vehicle. However, our clients consistently mention in their reviews that our ability to help them find feasibly priced transportation that fits their budgets just as well as matches their shopping priorities. Moreover, our used inventory is just as expansive as our new inventory for those aiming to save. Our used Toyota vehicles have been diligently inspected, and they have excellent service and maintenance histories. Our vehicle inventory makes it easy for drivers to find reliable, attractive, and well-equipped vehicles at all price points. With outstanding warranties and opportunities for negotiating, you're guaranteed to get great value.
See Us to Find Your Next Car, Truck, or SUV
Call or visit us today to learn more about Anchor Toyota dealership reviews and the many services, products, and solutions that have inspired them. You can also check out our used and new inventory and use our secure online financing application to get pre-approval for funding through our Finance Centre. As soon as you connect with us, you'll quickly see why we're the top-rated dealership in the area.